FAQ
General Questions
Is the Captain included with the charter?
No. Per USCG regulations a USCG licensed captain must be hired to pilot your charter experience.
How do I book a Captain?
Following your booking confirmation, a list of approved USCG licensed captains will be provided for you to hire directly.
What is the max capacity for each charter?
Per USCG bareboat charter regulations, the maximum number of guests allowed are 12 + 1 Captain.
May I bring food?
Yes you may bring your own food. It is recommended to be mindful of what you bring as it is the responsibility of the charterer to return the vessel to precharter condition to avoid a $250 cleanup fee. Garbage bags will be provided at the end of the charter.
May I bring drinks?
Yes you may bring your own soft/hard drinks. It is recommended that you avoid colored beverages and glass containers, as any stains or damages will warrant a $500 restoration fee.
Where are you docked?
We are located at 31st Harbor. 3155 S Lake Shore Dr. Chicago, IL 60616 Coast Guard Regulations.
Are your vessels Coast Guard certified?
Yes. All of our vessels are Coast Guard-certified and maintained regularly to adhere to strict safety COVID compliant regulations.
Is there a cooler/refrigerator on board?
Yes. Each vessel comes equipped with a cooler & refrigerator to store your beverages and or food during your charter. Payment.
What type of payment do you accept?
Payment in full is due upon confirmation of booking of the scheduled charter. We accept major credit cards: VISA, MasterCard, American Express, and Discover. **The credit card used for the purchase and a photo ID will be required to be shown prior to departing on the day of the cruise.
Is there a deposit for incidentals?
Yes. An incidental deposit of $500 will be due prior to departure following the check in. The full amount of $500 will be refunded to your account upon check out if there is no incidental damage. Essentially, the yacht must be returned in the same condition as it was found.
What can cause me to lose my $500 incidental deposit?
If the toilet does not flush due to sanitary napkins, tampons, paper products, or any non bodily fluid. Any damage to the vessel caused by reckless behavior or neglect from your specific charter.
What is your Refund Policy?
50% refund 7 days prior to scheduled charter reservation. 85% refund 14 days prior to scheduled charter reservation. 100% refund one month prior to scheduled charter reservation. No refund for cancellations 6 days or less prior to departure. Refunds will not be provided due to inclement weather with the exception of the following: Small craft advisories (Waves 6+ feet high); and USCG warnings In case of the aforementioned, you will have the option to postpone your charter to a later date. You will however, receive a 100% refund if the owner cancels your charter for reasons that we are responsible for. Weather.
Do you go out in inclement weather?
Yes. We cruise rain or shine. The vessel has the capability to be fully unclosed if deemed necessary by your captain. In the rare event that your captain deems your scheduled charter to be unsafe due to inclement weather, we will contact you to reschedule your charter.
What happens if we're late?
Please communicate with us immediately with regards to tardiness. Your captain will not depart unless instructed by whomever reserved the charter. Your trip will not be extended if you're late for your departure. Shortened trips due to tardiness will not be prorated, discounted, or refunded. We recommend that you arrive 30 to 45 minutes before your scheduled departure time to go over safety and to depart on time. Coordinator.
Will there be a coordinator reachable on the day of our charter?
Yes. One of our team will be available on premises to help direct the clients and guests prior to boarding. Privacy. Is the ship private to just our party? Yes. The charter is a private charter yacht and will only be used by your guests. Decorations.
Can we bring our own?
Yes. You are allowed to decorate the vessel, but be advised that there will be a $250 cleanup fee for any decorations left behind or damage to the vessel from decorations. For example, glitter, confetti, adhesive damage. Smoking.
What is your smoking policy?
All of our vessels and areas of our ship are non-smoking areas. Passengers who smoke may do so on the dock prior to boarding.
Should we still show up at the dock if it is raining on the day of our cruise?
We strongly advise you to show up on time even if it is raining, unless we contact you otherwise. The rain may go away which can then allow us to continue with the trip.
What days are considered Special Events?
Memorial Day Weekend
4th of July Weekend
Chicago Scene Party
Blvck Scene Party
Air and Water Show
Labor Day Weekend
Are there safety guidelines that we should take note of?
For your safety, please follow the guidelines listed below: Smoking is strictly prohibited. Do not sit on the handrails. Do not stand on the chairs or benches. Do not jump in the water until the captain has told you it is safe to do so and the vessel is at a complete stop.
Can we bring children aboard?
Yes. Children are welcomed aboard and must follow all of the safety guidelines. They are also required to wear life jackets immediately upon entering the docking area for the duration of the entire charter..
Reservation/Booking
How can we contact you in case of inquiries?
Email: info@vertexyachts.com
Is there a Bluetooth enabled sound system?
Yes. There is a Bluetooth enabled stereo system integrated into each vessel.
Is there parking available?
31st Street Harbor provides parking, but it fills up quickly. There is an additional parking lot (10 minute walk to dock), 641 E. 31st St. Chicago, IL 60653.
Is fuel included in the rate?
No. Per USCG, fuel must be charged and collected separately at the end of each charter. Average fuel fee is $150.
Is Captain's gratuity included?
No. Gratuity is not included in the charter price Proper gratuity etiquette per industry standard is 20% of charter cost.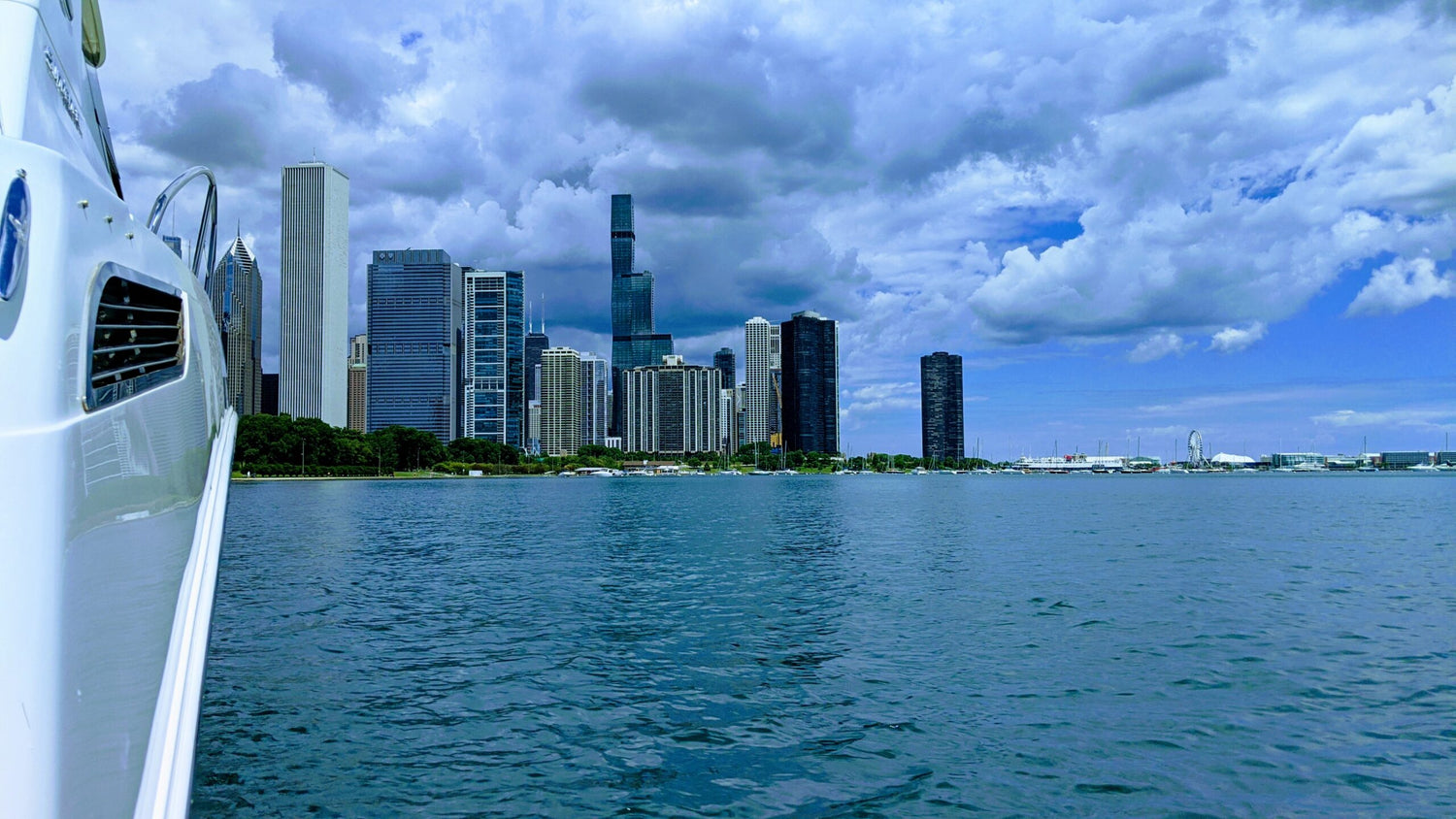 More Questions?
If you have nay other questions or would like to get in touch about your reservation or the service we offer, please don't hesitate to reach out.
Contact Us